Shamanic Training in Creativity – Seattle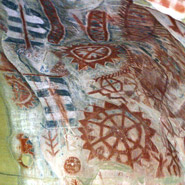 Sandra Harner's
Shamanic Training in Creativity™
An Advanced Shamanic Weekend*
with Beth Beurkens, M.A.
TBD 2017
Course Description
Creativity is so ancient that it is at once fundamental and complex, even a driving force in our lives. Shamanism brings a fresh approach to Westerners for cultivating their creative potential. In this workshop, based on years of research, participants will have the opportunity to enhance their creativity through the practice of shamanic methods. Selected historical and anthropological examples will illustrate connections between shamanism and creative abilities, and a variety of specific shamanic practices will be taught so that participants can apply creativity to their personal lives.
Seattle, Washington
Seattle is a major port city for trans-Pacific and European trade. Seattle has the cosmopolitan outlook of a port city and a strong civic, cultural and nature orientation. Seattle boasts a large population of artists, supported in part by an innovative public arts funding program. In 1852, the town was named for the chief of the Duwamish and Suquamish tribes. Chief Seattle remained a friend of the white settlers until his death in 1866. Seattle is known for its art galleries, museums, theater, and famous waterfronts. It also is host to whale watching, birding, kayaking, bicycling and white water rafting.
Click here for a fuller description.
*Prerequisite
The Foundation For Shamanic Studies – Michael Harner's Way of the Shaman®: The Shamanic Journey, Power and Healing. This basic workshop can be taken with Beth Beurkens at these locations.
Registration
$265 per person for early registration – up to one month prior to start of workshop. Sign-ups after August 12, 2014 will be $275. You may pay by check or by credit card. Preregistration is required.
Tuition payments may be made by check, or online with PayPal using credit or debit cards. PayPal payments may only be made for the full amount. If you choose to use PayPal, be sure to also print, fill out, and mail the registration and liability forms via USPS to Beth.
Tuition Deposit: A $150 deposit is required in order to register for this workshop and will be applied toward your tuition balance. You may also send the full fee to register.
We recommend the deposit be paid early as enrollments are limited.
Balance Due: Please send balance due by August 14, 2014 as all tuition matters must be complete before arriving at the workshop.
To register for this course:
Click here to print the Registration Form and Liability Waiver which needs to be sent via US Mail.
Please fill out this form completely and Mail it to:
Beth Beurkens, P.O. Box 483, Ashland, OR 97520
Include your Check or Money Order, or
Make your payment online via PayPal here:
Shamanic  Training in Creativity
Seattle, Washington
2017
Early registration is 30 days or more before event date.
[wp_paypal_payment_box payment_subject="Seattle – Shamanic Training in Creativity – 2017″ options="Early Registration:265.00|Regular Price Registration:275.00″ email="beth@shamanicuniverse.com" reference="" new_window="1″]
Cancellation Policy: Cancellations will be processed as follows: notification received prior to August 14, 2014: full refund minus $60.00 administration fee; notification received prior to Thursday, August 22, 2014: 50% refund minus $75.00 administration fee. No refunds on or after August 22, 2014. If you cancel 30 days or more before the workshop, you may apply the amount paid to another of my FSS workshops with no penalty except for any Pay Pal fees.
The Foundation for Shamanic Studies retains the right to cancel any workshop at any time for any reason. In this case all tuition fees will be refunded in full or may be applied to a future FSS workshop of mine.
Lodging in Seattle
This is not a residential workshop. You are responsible for your own travel and lodging. Please note the refund and cancellation policies for airlines and hotels. Travel insurance may be advised. There is a vast range of accommodations in Seattle in all price ranges. I've included a few less expensive options. Please make your own lodging reservations.
A coffee and tea service will be provided on morning and afternoon breaks.
A Seattle lodging, directions, and what-to-bring packet will be emailed to you upon receipt of your tuition payment and registration.
Thank you for your interest in the Shamanic Training in Creativity™ Workshop.
Chumash Cave Painting – Photo by Doc Searls