Shamanic Training in Creativity
Shamanic Training in Creativity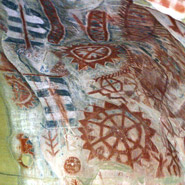 Sandra Harner's
Shamanic Training in Creativity™
An Advanced Shamanic Weekend*
with Beth Beurkens, M.A.
Course Description
Creativity is so ancient that it is at once fundamental and complex, even a driving force in our lives. Shamanism brings a fresh approach to Westerners for cultivating their creative potential. In this workshop, based on years of research, participants will have the opportunity to enhance their creativity through the practice of shamanic methods. Selected historical and anthropological examples will illustrate connections between shamanism and creative abilities, and a variety of specific shamanic practices will be taught so that participants can apply creativity to their personal lives.