Online Drumming Circle With Beth Beurkens
Online Drumming Circle With Beth Beurkens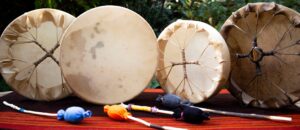 This Online Drumming Circle will meet via the Zoom platform.  It is limited to 15 participants.

We are an open circle, women, and men, meeting in the shamanic community.
We honor the spirit that moves through all of life and connects us to the unity in all things.
Prerequisite – The FSS Way of The Shaman 2 day workshop or The FSS Shamanic Journey – Pathways to Knowledge and Power Online Workshop.
Registration for this Online Drumming Circle is $20 and all proceeds will be donated to the Foundation for Shamanic Studies.